Konoha Gakuen is the High School to which the main characters of Konoha High School attend. It is the main setting of the story in the Preparing for Exams Arc and Return to Class Arc.
Appearance
Edit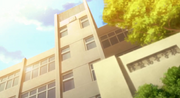 Konoha Gakuen is composed of various buildings. The main building appears to be formed of three areas. Two in which classes are given, located to the sides. And one that seems to be the hall, located at the center. There is a clock on the front part of the building.
There are two comfort rooms in the school, besides a yard where students usually hang out.